The air here in Wisconsin has turned to crisp mornings and beautiful sunny days.  No matter how lovely the colors look, the downfall of this time of year is the early morning frost.  During the warmer months, we have gotten in the habit of not parking in our garage.  It's not form lack of desire, rather its lack of space.  You see, much of the outdoor activity involves stuff which comes out of storage and takes up garage space.  Bikes, scooters. skateboards, golf clubs, gardening supplies, lawn mower…. I could go on and on. You get the picture. However, one added activity I did't included in the list that takes up major room in our garage is… the larger items I find on my Friday Outings.  So now that my husband has become tired of defrosting the windows of his car, he has said, " time to clean out!' I don't blame him.  Entering into a crisp fall day is so much more doable when one can view it from  the warmth of a frost free car window!
So this past weekend, we went to work.  This was my pile I was responsible for: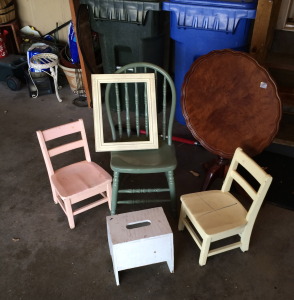 Just a tad bit of winter projects to tackle.  I have great plans for them, but the problem is getting them started.  I can get very distracted with other "important" things to do.  I have to keep my projects small so I can see the results in a timely manner.  I think I will start with the small stool and go from there.  If you have any thoughts on how I can redo any of these pieces, Please let me know.  I love suggestions!
Now off to finding a new home for these items…. Not in the garage!!! Its clean now!