Remember the yellow buffet that was discovered at a garage sale back in October?
Well, I have been slowly working on it little by little.  The project started out in the garage. I was able to get a couple of coats of paint on it before the weather turned too cold for painting outside. The paint I chose is called Lucketts Green by Miss Mustard Seed.  You can read about this fabulous paint here.
This is the buffet with two coats of paint .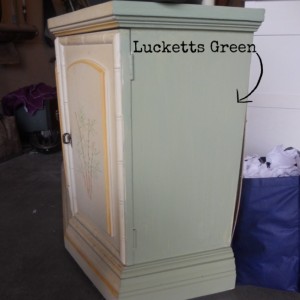 However, the front  will require a few more coats to cover up those lovely palm trees!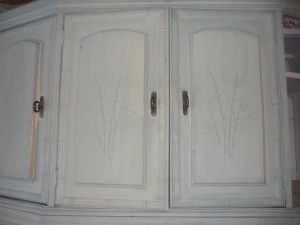 By this time, the weather was not allowing to paint in the garage any longer so I moved it into the house, right into the living room where I could continue working on it.  The Miss Mustard Seed Paint is all natural and has no oder so painting inside is an option.  It will take at least one more application on the front and then a light sanding before I add the finishing wax.  I'm not sure if I should go with a clear wax or an antiquing wax.  What do you think?  Check back soon to see what happens!