A couple weeks ago I shared with you my quest to find a replacement for a few pieces of furniture I moved out of my space.  You can read out that furniture update here.  Now I would like to share with you the furniture update reveal.  Yes, I found of piece to add to my space!! Viewer beware.  This piece is in need of some serious tlc.  Here she is.
It's a hutch, big, heavy and ugly. I found this out of pure luck at a moving sale.     The family was moving out of town and very eager to downsize.  I guess less to move.  When I spied this piece it was already taken apart— shelves removed and top taken off the base.  Therefore, I had to use my imagination.  How tall was it really? How far apart are the shelves spaced? Even having theses questions, I could see it had good bones – well built and solid wood.  It was quality in the rough.  I made an offer and they accepted.  It was mine!  Now to get it home.  Oh, did I mention it was located in a second floor condo unit?  And… no elevator?  Lucky for me I have a strong teen boy who is willing to flex his muscles. He got it down the stairs, and out to the van without a hitch.  I was super excited and thankful.  It was meant to come home with me.
After it arrived at our house, I placed the pieces together to get a visual.  I wanted to have my own personal furniture reveal. It was big!  Too big for the space I had pictured in my mind originally. Some rearranging of furniture  will be in order. But now it was time to start giving it some TLC.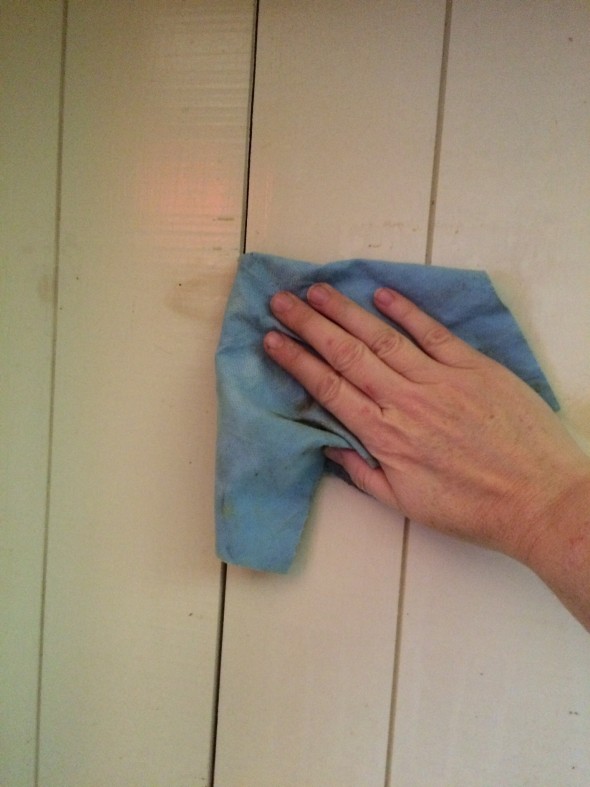 I decided I wanted to begin with the inside back panel.  I knew I was going to use Miss Mustard Seed Milk Paint, so sanding it down was not necessary. However, I did wipe it down with a cloth just to get any surface dust and dirt off. The most tedious job and the one I hate the most is taping off. For this particular area I needed to that because I want the interior of the cabinet another color.   I applied two coats of Lucketts Green with about a half hour drying time in between.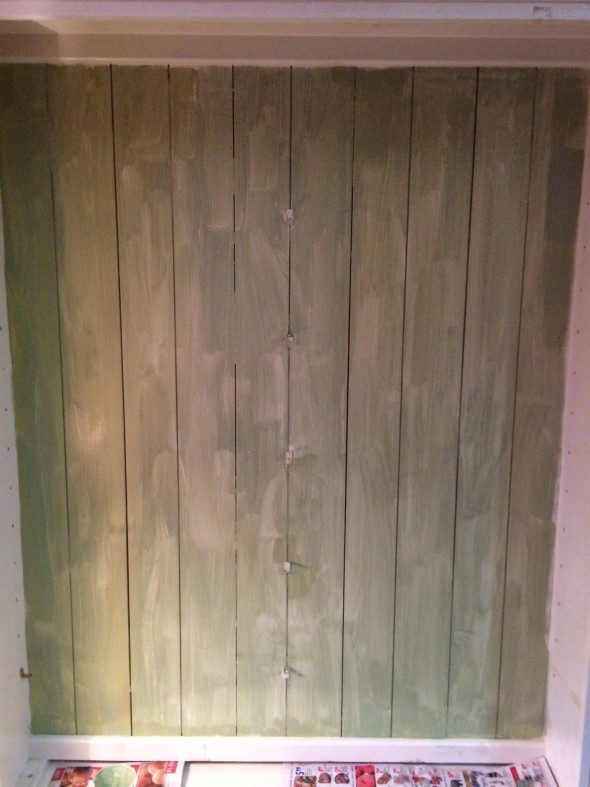 When that was completed, I applied an  antiquing wax with a soft t-shirty cloth.  Important tip:  Use a furniture wax brush. It is an oval shape brush with flat bristles.  It will save your arm from falling off!!  Mine almost did. I applied it in a circular motion and the wiped off any excess.  Just to let you know, when this dries it is not as dark or look this streaky.
Meanwhile, I searched  my paint stash and came across a full gallon of Martha Stewart Iron Stone. This will be plenty to use on the shelves and interior of the cabinet.   I gave each shelf a quick once over with a sandpaper block and then applied 2 coats of paint with a smooth roller.  These pieces were super easy to whip out…. no fancy edging, moldings or taping required.  Sometimes Most times I need the quick job.  I do my projects in between other stuff in life and I loose focus pretty easily.
Well that was it for that day.  (See I lost my focus )  Don't worry there is more to come.  I just need to walk away from it for a while to get excited about it again.  Did I happen to mention is a huge piece?  Stop back again and see the progress on it.  Beware:  I may change my mind with my original idea!