I"m not sure if any of you even noticed.., but I did not do a single post in the month of December.  It wasn't that I was not doing anything related to being thrifty.  ( Seriously, that's automatic for me.) It's just was that I was in a funk and the thought of sitting down and typing felt too much like homework.  Therefore, I am going to be playing catch-up on all December happenings.
My dear sweet elderly mother was visiting for an extended stay…. before, during and after the holidays.  No no its all good.  She is such a blessing in our lives.  Anyway, she wanted to do a little outing at a shop that is located on the east side of our city.  So one afternoon we ventured out did the shopping and then was going to call it a day.  This outing was a big deal for her since her arthritis  restricts her mobility.  As we were driving, my mother noticed we just pasted a thrift store.  This one  I didn't even know existed there. She suggested we stop.  What a great Mama!  I knew she was tired but would rally for me.  So in we went.  She went right and I went left.  When we met up again, we both had treasures. This was my score…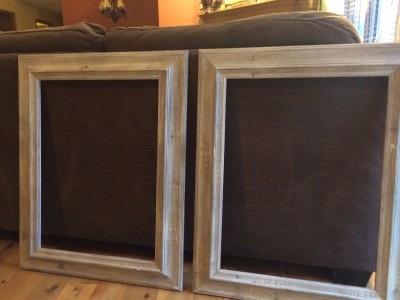 I found these two matching wood picture frames.  No glass , no picture, and just unfinished wood.  They totally were saying "project" Score!!  I had a vision for them already in my head.  Super easy!!  When I shared the idea with my mom she said," I just don't see what you mean. I sure it will be loveley."  That's my mom, always my cheerleader.  Well, now it was important to create my vision while she was still visiting .  No putting off this project.  My overall plan for these frames were to simply white-wash them.
The first step was to lightly sand the pieces and wipe off any extra dust.  Next I thinned down  leftover antique white paint with a little water and brushed it very thinly over the frames.  Because, these frames had no finish, the paint was quickly absorbed. Now, just wanting a little more depth, once the paint dried, I dry brushed a light gray  randomly over the entire piece. That was it.  A very easy project.
Finally, I was eager to display my work.  The perfect spot was to hang them on either side of a large window in my living room.  Using a patterned Christmas ribbon, I attached a small boxwood wreath to hang in the center of the frame.
There it was, completed!  Of course, my mother was just as excited as I was.  Her comment was, "I never would have thought of that from just a pair of plain would frames.  (Aren't Mom's great! Even at my age I could feel myself beaming with pride as she admired my work.)  I think we all our kids in the inside for ever!
After taking down all the Christmas decorations, I thought I would change out the ribbon to something more neutral.  Searching through my stash, I came across a burlap textured ribbon with red piping.  Hmm.. would the red still look too Christmassy? Yeah I think so.  What do you think?  Should I cut the piping off? I have a feeling it will stay like this for a while…  Just glad a project is done!