I thought it would be a great goal this year for me/ Thrifty to Nifty to try to shop my stash before going out and purchasing new "projects".  Little did I know I could come up with quite a few ideas to share with you.  Some of these projects will be quite simple… gather and assemble ans some will need a little love and a tweeking.  All in all, I'm looking forward to the creativity involved.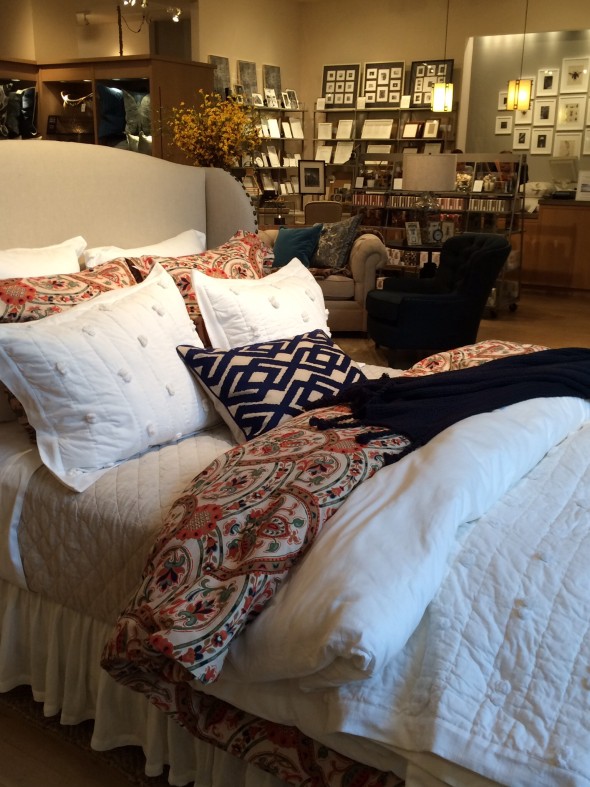 My first share came upon me when I was at the mall. Of course I stopped into  Pottery Barn to take a "look" around. I really like to to check out how they stage  different areas… table scapes, office accessorizing, family room decorating, and even the bedroom   That's when I saw it. I made my rounds  and was heading out the door and smack dab right in the entrance of the store was a staged bed.
How I did not see it when I walked in, is beyond me???  I just love inviting beds-the ones you want to jump into and not crawl out of.  I guess I find these so attractive, because I secretly wish my bedroom /bed would be like this all the time. After staring at it, I realized I have the "goods" to recreate it. I could create a Pottery Barn look alike for my bedroom.  That's when I decided to take a picture to use for reference when I got home.  After studying the picture, I was confident I could shop my stash a pull off the look.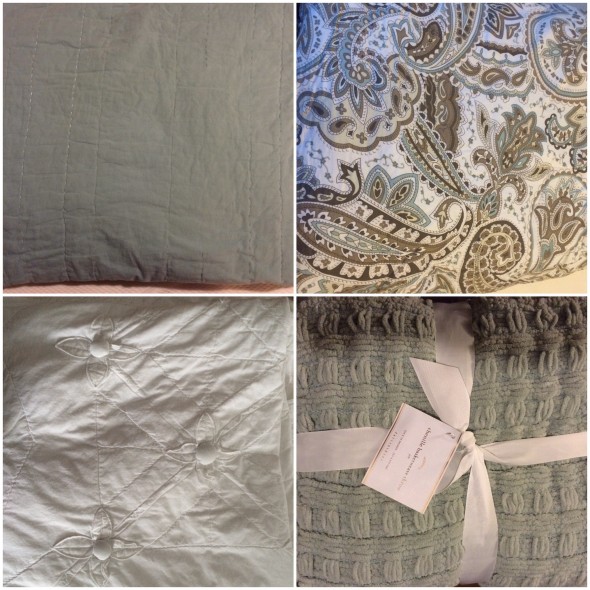 The items I gathered were: Aqua colored blanket with matching shams, paisley down quilt, white pom-pom duvet, and a chenille throw.
All these items I had existing in my home. One step better, the down quilt and the white Pom-pom duvet were thrift store finds. I just never could foresee how to combine it all together. The Aqua quilt and shams I have had forever and the throw I purchased a Pottery Barn before Christmas at one of there flash sales.  It has been sitting in the bag ever since.  So following the "dream bed" photo, I assembled my bed.  This is what resulted…..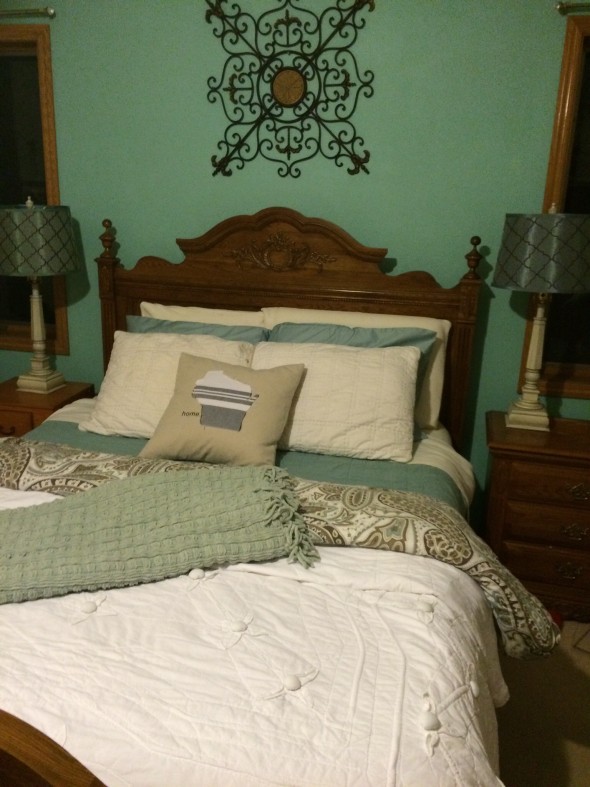 A Pottery Barn look alike on a thrift store budget. What do you think?  Does it look as inviting as the inspiration photo? I think shopping my stash worked out pretty well this time. I will be sharing more soon so please return and see what occurs .