I wanted to share with you a quick DIY project you can do in a half hour or less.  This idea came to me when I had the opportunity to share in a birthday celebration for a dear friend and wanted to give a personal kind of gift.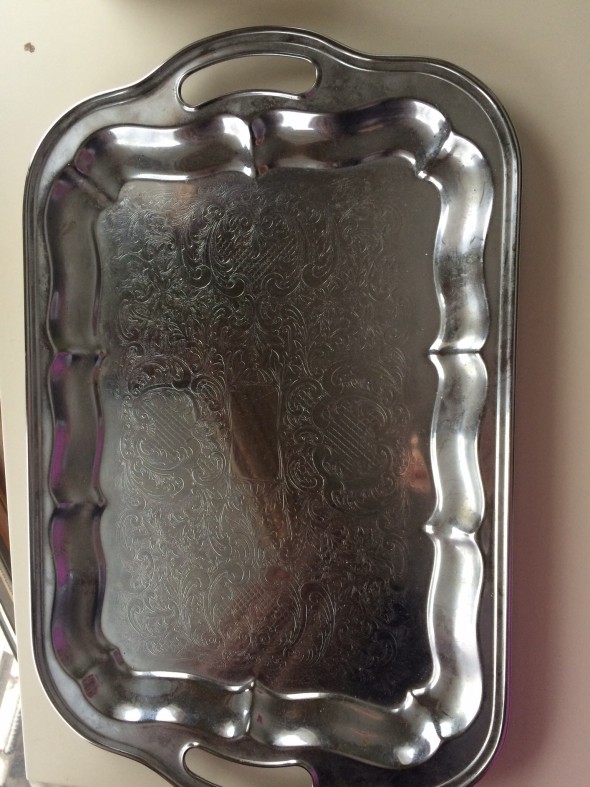 I had a couple of these silver trays tucked away in my stash that I picked up one day thrifting at a very reasonable price.  I always had the intention of creating these pieces into chalkboard trays and now was a great opportunity.
Materials needed:  painter's tape, sand paper, chalk paint– I used spray.
First step is to tape off the  edges. I only wanted the interior to be chalkboard. Taping was a little tricky because the interior had a scalloped edge.  Lesson learned– in the future, I would look for trays that have a straight interior edge.
Next I gave it a light sanding, to assist the chalk paint to stick.  I chose to use spray paint because of the small area I was painting and wanting  this to be a quick no fuss project.
Because it is cold here in Wisconsin, I couldn't work in my garage the whole time.  I decided to just spray the tray in the garage and let it dry in the house.  To aid in transporting this piece back and forth  and help with minimizing a mess, I placed the tray in a box to spray.  When it was dry to the touch, I took it back into the garage, sprayed it and brought it back inside.  This was repeated three times.  Finally, I was able to remove the tape.
The finished product. A DIY chalkboard tray! This is the picture my friend sent to me of the chalkboard tray sitting on her counter.  Lovely!
Have you ever created a gift for someone?  I would love you to share.  I'm always looking for new ideas.